Jennifer
I've gained a reputation (in my house) as someone-who-takes-baths-very-seriously. I wasn't always a serious bather; I showered almost exclusively from the ages of 12 –25, but the bath has recently become the most important part of my self-care routine. I'm on a one-bath-per-week minimum these days, and it's an actual ceremony. It's ~a dance~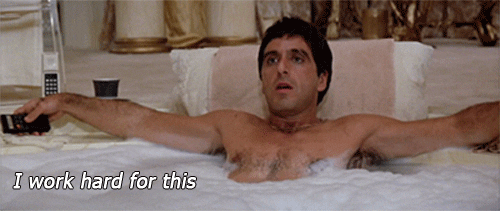 I flip the laundry basket upside down and drape a towel over the hard plastic so that you can't see the hard plastic (ambiance is Very Important). I strategically place my computer on top so it's at the right height to watch in the tub, from where I've watched all of the classics: Gilmore Girls, Breakfast at Tiffany's, the Grinch (in season). I have a book too, or instead, probably something with feminist undertones, really. If I'm reading, the 8tracks playlist hastags like 'Chill' 'Jazz' 'Winter' 'Relax' or 'Piano'.
I have a Very Big mason jar full of icy lemon-water or green tea, set in the front-left corner of the towel that's draped over the laundry basket. I pull out one or two essential oils – maybe rosemary, then lemongrass, or maybe lavender, then bergamot – and I put them on the edge of the tub where they wait for me until I'm ready.
I flick the lighter and light the end of a Balsom Fir incense stick from a box that I was gifted by a friend at Christmas two years ago. I take a second to reflect on the almost-empty box. I know I'm going to miss the smell. It's woodsy and it makes me feel like I'm outside. I light a candle or two, too.  I drop in the special combination of essential oils (the rosemary and lemongrass or the lavender and bergamot) at a rate of 10 drops per oil, and I hop in. For the next hour I inhabit a territory that I like to call a "chill zone".
Chill•ŸZone noun The mental and/or physical space or state in which you are most comfortable, relaxed, zen, clear-minded, and peaceful.
Ideally, an act of self-care will allow you to spend time in your "chill zone". I've bestowed this name upon a room before, but it isn't always a physical space. It could be sitting on a bench taking deep inhales and exhales of fresh air. It could be drinking black coffee and starting a new book. It could be drawing in your journal while sitting beside a Vanilla scented candle. It could be watching a movie with your cat. Maybe it involves using something that a loved one gave you as a gift. Maybe it's eating a big bowl of spaghetti bolognese with lots of Parmesan shaved on top while you listen to Amy Winehouse. Your "chill zone" is your own space and it's up to you to find it and spend time there. For me, it's a Very Good Bath, and I suggest that you give it a try.